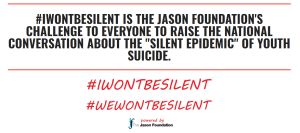 Did you know that suicide is the 2nd leading cause of death for our nation's youth ages 10-24 Or that annually we lose more young people to suicide than to auto accidents? The problem is it's only getting worse!
The Jason Foundation, Inc. is a national leader in programs and resources for the awareness and prevention of youth suicide. Suicide has not only been declared a leading cause of death for our youth, it has been declared a leading cause of PREVENTABLE death for our nation's youth. Prevention begins with raising awareness about this national public health issue of youth suicide and by sharing information about prevention.
We are asking your help in "breaking the silence" of this "Silent Epidemic" of youth suicide by participating in our #iwontbesilent campaign. This campaign aims to raise the level of conversation nationally about youth suicide's impact and how we can work together as a whole to help prevent this tragedy.
Please visit www.iwontbesilent.com to find out more and how you, your school, church, youth group or place of work can participate and be part of this national effort. It's simple and free! This is NOT a fundraiser, but an "awareness-raiser" and we need your help! Everything you need to launch your individual or group campaign is downloadable, free of charge, at www.iwontbesilent.com. The downloadable "Users Guide" will tell you all you need to know to get started.
Again, please visit to learn more about how you can help save lives!