The Jason Foundation's long time effort of working with the State Attorneys General started back in 1999, beginning with General Paul Summers – Attorney General State of Tennessee.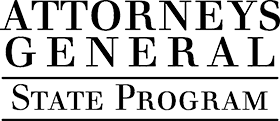 Through General Summers' efforts, JFI was invited to present to the National Association of Attorneys General (NAAG) in March 2004 at their annual meeting. As a result of that presentation, NAAG passed a Resolution which encouraged all Attorneys General to become involved in youth suicide prevention and held up The Jason Foundation as such a model for involvement.
The Jason Foundation began the State Attorneys General Ambassador Program as a response to the 2004 NAAG Resolution. Today, the majority of State Attorneys General participate as JFI/State AG Program Ambassadors in their state. As an Ambassador, they help introduce JFI to state and private agencies to help build collaborative efforts in youth suicide awareness and prevention. Our AG Ambassadors also help in legislative efforts, public awareness efforts and through public service announcements. We are proud that The Jason Foundation's Board of Directors has one current Attorney General and four former Attorneys General as members.
To see our Attorneys General Ambassadors, click here.