The Jason Foundation Recognized September as Suicide Prevention Month
JFI proudly recognizes and supports September as National Suicide Prevention Month. Throughout the month, individuals and organizations around the country highlight the problem of suicide and advocate its prevention.
Recently, the Centers for Disease Control and Prevention (CDC) released provisional data showing the number of suicide deaths increased 2.6% from 2021 to 2022.  There were more than 49,000 suicide deaths in the United States in 2022. In 2021, suicide was the second leading cause of death for middle and high school-aged youth (12 – 18). The CDC also released survey data in February that monitors priority health risk behaviors that contribute to the leading causes of death, disability, and social problems among youth in the country. Below are highlights from the high school questionnaire focused on mental health from the report.
More than half of all high school females (57%) reported that they felt so sad or hopeless almost every day for at least two weeks in a row that they stopped doing their usual activities.
Almost 1 in 4 (22%) reported seriously considering suicide in the past year.
1 in 10 high school youth attempted suicide one or more times within 12 months of the survey.
Talking about suicide and suicidal ideation can spur meaningful conversations about mental health and potentially save lives. Suicide Prevention Month is a time to remember those affected by suicide, raise awareness, and focus on prevention efforts. Reach out to those who have been personally affected by suicide and connect those struggling with suicidal thoughts to professional counselors and treatment services for assistance.
The Jason Foundation offers many different ideas on how you can become involved. To find more information, visit their website and look for the "How to Get Involved" tab. A special section exists for Suicide Prevention Month.
---
The Jason Foundation Releases Updated Student Curriculum
The Ja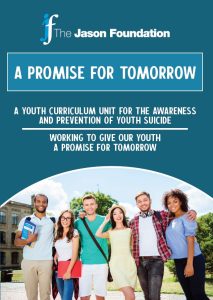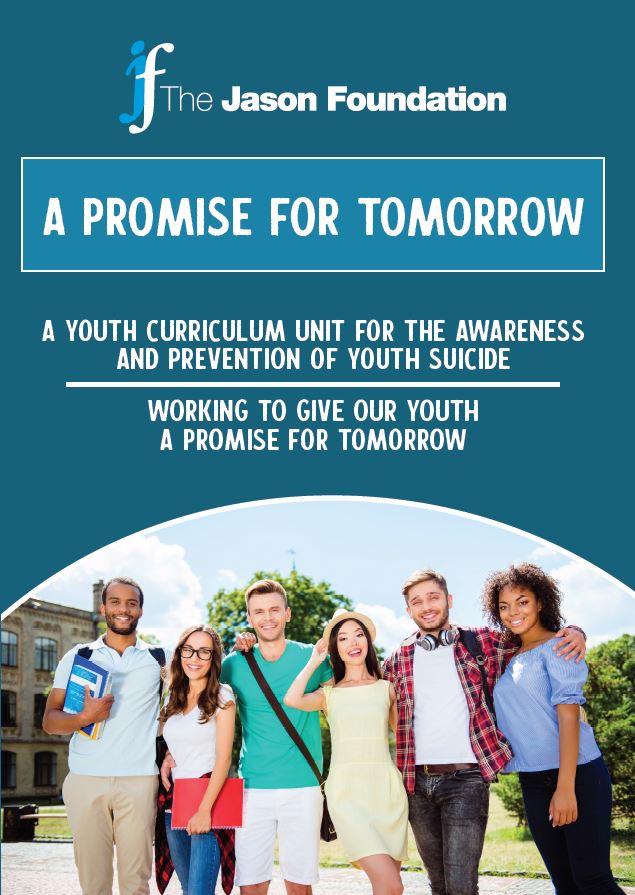 son Foundation is proud to be a national leader in youth and young adult suicide prevention and awareness. In fact, our student curriculum is one of the most widely utilized and longest running suicide prevention programs for youth. The program "A Promise for Tomorrow" presents a positive look at how students can help friends who may be depressed or having suicidal thoughts. Research tells us that four out of five people considering suicide give some sign of their intentions, either verbally or behaviorally. This curriculum aims to provide information and strategies needed to be a lifesaving influence.
The 2022 revision is based on a two-lesson format (instead of a 3-5 lesson format) for the traditional high school schedule of 50-to-60-minute classes. These can be presented as two separate lessons or back-to-back to accommodate an extended block class of 90 minutes or longer. The curriculum content is available via DVD or streaming (instead of entirely teacher-led) with facilitator-led sections to reiterate information and lead discussion.
Each lesson provides a script for the facilitator to introduce sections and facilitate discussion. Lesson One presents Facts, Myths, Risk Factors, and Warning Signs with discussion questions interspersed. Lesson Two features a series of short vignettes showcasing issues that young people face. They are intended to springboard discussion when the students are separated into smaller groups.
Learn more about the Promise For Tomorrow Curriculum here.
---
Dr. John's Insights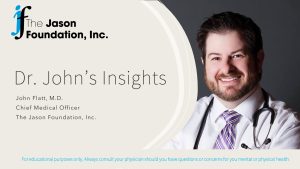 The Jason Foundation is elated to announce a new educational video series to coincide with September being Suicide Prevention Month.  Dr. John's Insights features our Chief Medical Officer, Dr. John Flatt, sharing information on suicide and how you can help someone who may be struggling.  Episode 1 provides an introduction to the new series and a brief overview of the issue of suicide in youth and young adults.  Be sure to check the link on a regular basis as we update the page with additional videos.
---
New Smartphone App for Kansas
Attorney General Derek Schmidt is an Ambassador for The Jason Foundation, helping us spread our mission of suicide awareness and prevention to the people of Kansas.
The Jason Foundation is elated to announce the release a new free smartphone app, Kansas – A Friend AsKS. The app was developed in partnership with the Kansas Attorney General's Office.
The app connects youth to tools and resources to help a friend, or themselves, who may be struggling with thoughts of suicide. The app also offers the option for users to call or text the 988 mental health crisis line, which was launched in Kansas in July.
"The need for prevention is larger than ever, as we see suicide as a leading cause of preventable death in the United States and in Kansas," Schmidt said. "I applaud the efforts of all who are working in the area of suicide prevention, and we are proud to be adding this new tool to the toolbox of prevention measures available in our state."
Schmidt made the announcement of the app at the Kansas Suicide Prevention Headquarters Breakfast for Hope in Lawrence, coinciding with National Suicide Prevention Awareness Month, National Suicide Prevention Week and Saturday's upcoming observance of World Suicide Prevention Day.
More information about the attorney general's youth suicide prevention efforts and links to download the app are available at https://ag.ks.gov/asKS.
---