Meridian Supports The Jason Foundation to Launch Statewide Suicide Prevention Campaign in Illinois
The campaign will combat the "Silent Epidemic" of suicide through a grassroots approach to spread awareness and provide education.
CHICAGO (Mar. 31, 2022) —Meridian of Illinois, a leading provider of government-sponsored managed care services in Illinois, and The Jason Foundation, Inc. (JFI), a nationally recognized leader in suicide awareness and prevention, announced today the launch of a statewide initiative to combat suicide deaths: Illinois Won't Be Silent (#ILWontBeSilent).
According to The Jason Foundation, suicide ranks as the sixth leading cause of death for ages 10 to 65 in Illinois, averaging more than three deaths per day in this age group, and their key message is that suicide is preventable. Four out of five individuals considering suicide give some sign of their intentions, either verbally or behaviorally, and it is JFI's mission to make this known to save lives.
The campaign will be focused on building awareness and providing information, tools, and resources to better identify and/or assist an individual who may be struggling with suicidal thoughts.
"We will be working to assemble collaborative partners within business, government, non-profits, and the community to help raise the positive conversation on suicide and mental health across the state," said Clark Flatt, President of The Jason Foundation. "Individuals and organizations alike have the opportunity to make a difference and save a life."
"We are excited about our partnership with The Jason Foundation to continue our efforts to support behavioral health initiatives in the communities we serve across Illinois," said Mayank K. Shah, M.D., and Chief Medical Officer of Meridian of Illinois. "Together with our partners, Illinois Won't Be Silent will support our commitment to helping individuals across the state live safer, healthier lives."
JFI will act as the administrative agency to help coordinate efforts in Illinois. Their Affiliate Office at Timberline Knolls will help supply the state with programs and resources for this cause. Also, JFI will work with local Ambassadors who will aid by raising awareness of the campaign and the organization will offer more details to come over the course of the next couple of months.
As with all programs and resources made available by The Jason Foundation, there is no charge for any material or training offered to the public. Find more information at www.ILWontBeSilent.com.
###
 About Meridian of Illinois
Meridian of Illinois offers three managed care plans: the Meridian Medicaid Plan, the Meridian Medicare-Medicaid Plan, and the Meridian Managed Long Term Services & Supports Plan. We connect members to care and offer comprehensive services to support lifelong health and wellness. Learn more at ILMeridian.com.
Jason Foundation Medical Advisory Board Issues Statement on CDC Report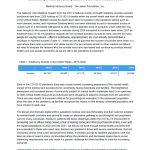 The Jason Foundation's Medical Advisory Board today issued a statement regarding a recent report released by the Centers for Disease Control and Prevention that detailed a decline in suicide deaths during the beginning of the COVID-19 pandemic.  A national leader in suicide awareness and prevention, The Jason Foundation is a non-profit organization dedicated to fighting the "silent epidemic" of youth and young adult suicide through educational programs for youth, educators, parents, and community groups.
The report provided provisional data from 2020 of COVID-19 deaths within the overall death rate from all other causes in the United States. Multiple causes for death were seen to increase during the pandemic such as heart disease and stroke, but attention has been brought to the decrease in suicides during 2020 as evidence that pandemic impacts did not increase suicides but demonstrated a decrease in reported suicides.  While the number of suicides were down in a year when there was a viable concern is encouraging, we must evaluate the reasons why the number may have decreased and continue to prioritize mental healthcare and suicide prevention as we are still in the pandemic environment.
Proactive suicide awareness campaigns when combined with increased access to mental healthcare have a significant impact on the reduction of suicide-related deaths. As we continue to deal with the impacts of the COVID-19 pandemic, we must not forget that we are not back to a pre-COVID medical, social, or psychological environment. We must continue to educate and create awareness to mental health issues and highlight the risk and preventability of suicide for those not yet being treated. We must focus on continued support from communities, insurers, and governments for mental health therapy and support for outpatient and inpatient psychiatric care programs.
Thankfully, the number of deaths from suicide were down in 2020, a year in which many were concerned about an increase. Addressing mental health issues along with suicide awareness and prevention has driven society to be more open about discussing mental health issues and actively seeking treatment. We must continue the awareness and educational campaigns while simultaneously improving access to mental healthcare treatment.
Read the full report below.
COVID-19 Pandemic and Suicide – Understanding the 2020 CDC Leading Causes of Death Report related to Suicide