The Jason Foundation is proud to work with the Tennessee Department of Children's Services to offer our programs and resources to those connected to the child welfare system in Tennessee.  The first collaboration between the two entities is to provide The Jason Foundation's suicide prevention seminar that was developed specifically for foster, adoptive, and other out-of-home caregivers.  You can find more information about the program below.
Click the button above to view the training.  This module is contained within our Online Professional Development Platform.  You will be required to create an account.  To do this, click Register after following the View the Training button above.  This will allow you to return to the training and pick up where you left off.  You will also have the opportunity to obtain a Certificate of Completion when you finish watching the video.  This certificate will be available on the homepage under the Certificates tab.
Once you have registered look for the Foster Care Module Course under the Catalogs. If you have any questions, reach out to us at contact@jasonfoundation.com or 615-264-2323.  You can also email us if you would like to obtain a copy on DVD.
---
Preventing Suicide Among Foster Care Youth:
A Training for Foster, Adoptive, and Other Out-of-Home Caregivers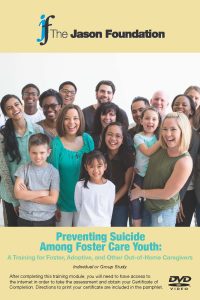 While suicide is a significant public health crisis for the general population, the risk for suicidal ideation and behavior increases for youth in care because of the complex circumstances they often face.
At any given time, there are estimated to be approximately 400,000 youth in care.
Youth in care may have complex medical, mental, and behavioral health concerns stemming from a trauma history.
Children who are adopted wait an average of almost three years.
Youth in care may struggle with separation anxiety.
This training module discusses facts, myths, and signs regarding suicide risk for youth involved with the child welfare system and specialized topics such as trauma and adverse childhood experiences. Material is presented by a professional speaker and people with lived experience (former foster youth, foster and adoptive families, and experts in the field). Suggested protective factors and recommendations are provided for caregivers.