We have many coaches who currently serve as JFI Ambassadors.  Through the dedication of American Football Coaches Association (AFCA), this program continues to grow as JFI expands its efforts to fight the tragedy of youth suicide across the country.
JFI's National Spokesperson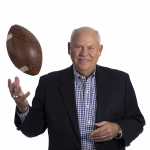 Phillip Fulmer, former University of Tennessee Head Football Coach, has served as JFI's National Spokesperson since May of 1998. Coach Fulmer's efforts continue to help JFI bring national attention to the tragedy of youth suicide as well as the resources available for prevention efforts. Coach Fulmer also leads JFI's efforts with the American Football Coaches Association and is co-host of JFI's largest annual fundraiser, The Phillip Fulmer & Charlie Daniels Golf Classic.
JFI/AFCA Ambassadors