The Jason Foundation is proud to announce that Bailey James has become our first National Youth Advocate.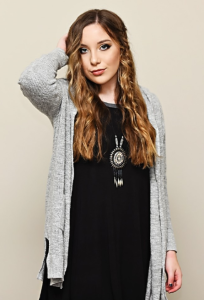 In this position, Bailey brings her passion and outreach to help fight the "silent epidemic" of youth suicide. She joins Rascal Flatts and Charlie Daniels as music entertainers that promote youth suicide prevention and awareness alongside The Jason Foundation.
You would be hard-pressed to find a 16-year-old music artist with a resume like that possessed by Bailey James. Not only has she appeared and performed at the legendary Bluebird Café, the famous The Wildhorse Saloon, the home of the Grand Ole Opry radio station WSM-AM, as well as participating in the mega-popular CMA Music Festival in Nashville, she also took part in numerous press interviews and showcased her talent during the annual Country Radio Seminar in Music City. A vocalist, guitarist and songwriter with over 100,000 fans across her social media platforms, Bailey is a standout artist in a new country traditionalist genre who combines elements of classic country with contemporary sounds and energy. This soulful performer is introducing and drawing her swiftly-growing young audience to a fresh musical adaptation that is well beyond her years.
To learn more about Bailey and hear here music, visit her website.